¡Hola, mi gente!
Look at me, posting regularly. We love to see it.
Today I bring you the review of one of the 2021 releases I was the most excited about. I've been drifting away from Young Adult, but every once in a while a book demands my attention and that was the case with this book. Now, without further ado, let me gush a little about Glimpsed.
Goodreads | Amazon | Barnes & Noble | Indigo | IndieBound
Genres: Young Adult, Contemporary, Fantasy
Perfect for fans of Geekerella and Jenn Bennett, this charming, sparkly rom-com follows a wish-granting teen forced to question if she's really doing good—and if she has the power to make her own dreams come true.

Charity is a fairy godmother. She doesn't wear a poofy dress or go around waving a wand, but she does make sure the deepest desires of the student population at Jack London High School come true. And she knows what they want even better than they do because she can glimpse their perfect futures.

But when Charity fulfills a glimpse that gets Vibha crowned homecoming queen, it ends in disaster. Suddenly, every wish Charity has ever granted is called into question. Has she really been helping people? Where do these glimpses come from, anyway? What if she's not getting the whole picture?

Making this existential crisis way worse is Noah—the adorkable and (in Charity's opinion) diabolical ex of one of her past clients—who blames her for sabotaging his prom plans and claims her interventions are doing more harm than good. He demands that she stop granting wishes and help him get his girl back. At first, Charity has no choice but to play along. But soon, Noah becomes an unexpected ally in getting to the bottom of the glimpses. Before long, Charity dares to call him her friend…and even starts to wish he were something more. But can the fairy godmother ever get the happily ever after?
Glimpse is the story of Charity, a fairy godmother that tries to help people in her life while also keeping up her grades, making sure her fairy tale origins are kept secret, being part of the cheerleading squad and asking Memom (her grandmother; literally the best) for more information about fairy godmothers. Being a fairy godmother in high school can be tiresome, but she pushes on because she's doing good to her Cindies, helping them achieve what she "glimpses" as their deepest wish.
Nothing takes my mind off my own problems like working on someone else's.
Apparently out of nowhere, though, Charity starts receiving some pretty weird messages that shows that someone seems to have found her secret. She's a little scared, but decides to meet with the person sending the notes. After all, maybe a little nudge can send them away.
He looks cocky in a way unique to dorks –like he just leveled up in Dungeons & Dragons.
Enter Noah, science fiction expert and amateur detective. He has been trying to find an explanation to why his friend and crush had a 180° change out of nowhere and now acts like a completely different person. Searching for a pattern, he found one, and in the middle of that pattern, connected to every piece, stood something. Or better yet, someone. Noah affirms that the wishes Charity is granting are not as good as she thinks they are, but she doesn't believe him. After all, how could having the thing you desire the most be something bad? Noah is just a love sick boy who got his heart crushed when the girl he liked didn't like him back.
Right?
If you spend your life trying to protect yourself from getting hurt, you'll end up missing the best parts. Some people are worth breaking your heart over.
Charity has to concede when she realizes the last wish she helped achieve had the completely opposite reaction that she expected. And when she starts looking at her previous Cindies closer, she realizes that maybe being a fairy godmother hasn't been like she expected. But how can she stop doing something she was born to do? How can she go against her own nature to stop hurting more people?
What I liked
I loved the writing style in Glimpsed. It's easy to read and flows naturally, making the reading quicker and fun. For some reason, it escaped me that this is the debut of the author until I sat down to read more information about her and I was surprised. This debut is amazing and I can't wait to see what G.F. Miller writes next.
The character were my favorite part of the book. I wanted to be friends with Charity and Noah. I wanted to sit down and listen to Memom talk about fairy godmothers in history. I wanted to be invited to a night of nerdy extravaganza with Noah's family. Miller has an amazing hand creating characters that feel real, people who you could find walking around. Which, if I'm honest, is a little worrisome, 'cause I don't want a fairy godmother nudging me to do anything…
I mention this in my interview, but the dialogue was witty and fun to read. It's also realistic, which is not always easy to get on paper.
I would literally die for Noah. I want to protect him from everything bad in this world, ok?
What I didn't like
There were some themes that I feel deserved a little more time spent with them. However, when you finish the book you're not left feeling like something is incomplete.
Glimpse was one of my most anticipated releases of 2021 and a fantastic way to start the year.
4.5/5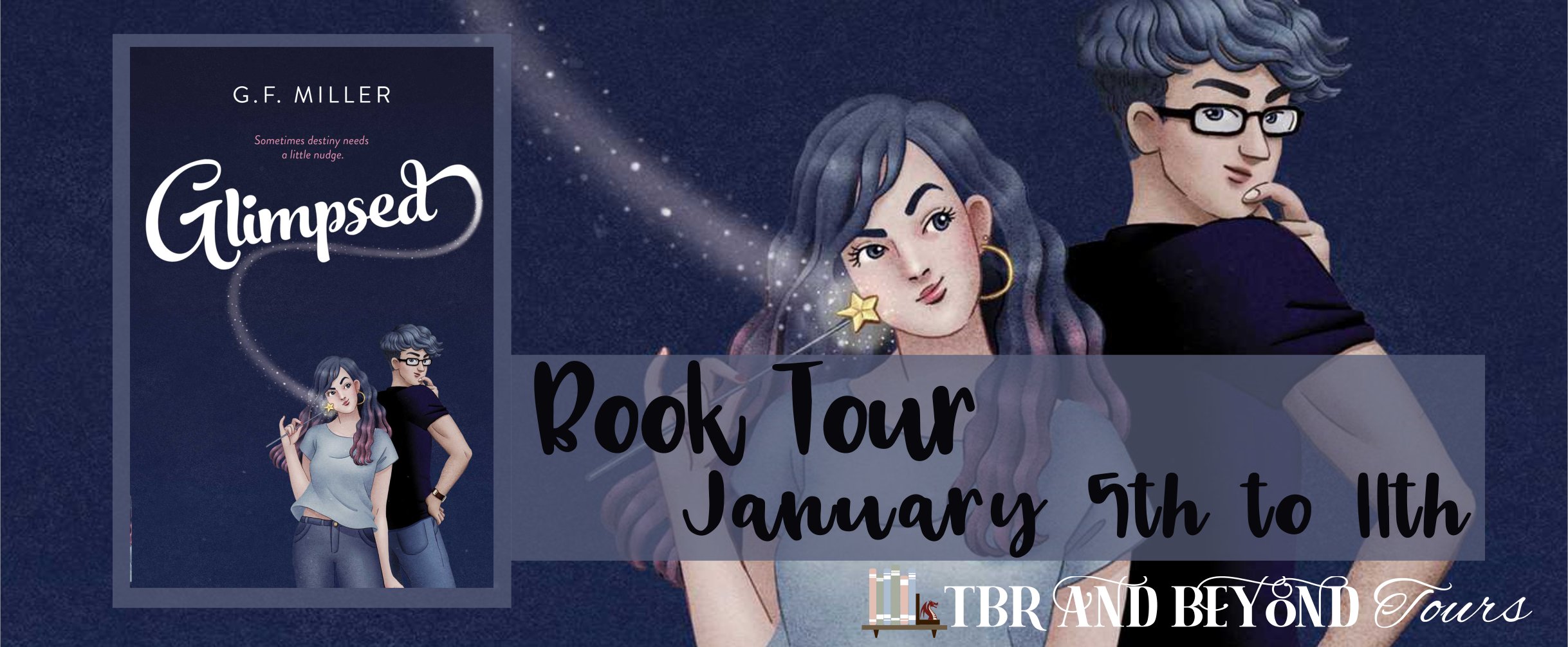 As part of the Glimpsed Tour, I was able to chat a little with G.F. Miller about the inspiration behind Glimpsed, the amazing characters and ask a few questions about unknown Cindies. Read our conversation and get even more excited about this book!
Linda (L): How did you get the idea of writing about a teen fairy godmother in a contemporary world?
G.F. Miller (M): At one point in the book, the main character, Charity, says, "I'm a fixer, not a hugger." Ever since at least high school, that's been me, too. I mean, I *do* enjoy a good hug. But seriously, if there's a problem, I would very much like to fix it. Even if it's not my problem. It's probably one of my most annoying characteristics. So it came pretty naturally to write a story about someone who felt it was legitimately her job to fix everybody's stuff for them.
L: During the book, Charity discovers information from various mythologies and fairy tales to try to understand her job as a fairy godmother. What was the experience of connecting these things people know and creating a completely different approach to them?
M: All of those bits got added thanks to Jessica Smith, my editor at Simon & Schuster. She encouraged me to "lean hard into the fairy tale." Because of that, Charity's story was already pretty much fully formed when these backstory details got added. As I pondered Jessica's questions and challenges about how fairy godmothers fit into a present-day California high school, I did exactly what Charity does in the book: I went to the depository of all knowledge on the planet and started fishing around for stories and commentary about fairies, fairy tales, and fairy godmothers. Then I picked out and wove together the pieces that fit with the story I wanted to tell. (Yeah, I know it's cheating. But it worked, so I regret nothing.) I actually added the Rapunzel story during the last round of revisions, when Jessica challenged one word on that page. And it's one of my favorite little gems in the book! So HOORAY for awesome editors and their magic fairy dust!
L: We go with Charity on a journey of self-discovery, discovering that sometimes she doesn't completely understand other people's wishes. At one point, she starts believing that being a fairy godmother might not be the best for other people. Do you think fairy godmothers do more bad than good? Would you consider accepting the help of one?
M: I think that the fairy godmother in Gail Carson Levine's Ella Enchanted got it right when she insisted that she must only ever do "small magic." Big magic can have huge fallout. But all of us can use a little boost sometime—an encouraging pep talk, a bracing cup of tea & sympathy, the right shade of lipstick, someone by our side when we need to be brave… I think what Charity does right—in the midst of all she does wrong—is, she sees people's potential and believes they are capable and worthy to achieve it. Who wouldn't want a fairy godmother like that? For myself, I'd totally accept the help of a fairy godmother who could make my house always tidy and bookstagram-post ready. Come to think of it, there's a good chance my fairy godmother is Marie Kondo. Marie, if you can hear me, please hurry…I need you!
L: I'll confess something: I had never seen Star Trek before reading Glimpsed. I say had because once I finished, I ran to my laptop to see if any streaming service had it and binged a few episodes. I NEEDED TO UNDERSTAND THE REFERENCES! And, fyi, I regret nothing. What other SFF series/franchises does Noah like? What would he recommend to someone new to science fiction?
M: I love that you enjoyed the book without any background knowledge of Star Trek. That was my goal—so, #winning! And I love that it made you want to check it out J Noah and I are also HUGE fans of Firefly. If you've never seen it, you should definitely binge it right away! The series is short, and there's a movie to wrap up all the storylines. It's my (I mean Noah's) favorite SFF thing ever made (thanks, Joss Whedon).
L: Memom had some pretty convincing stories of how fairy godmothers have been shaping stories and life for a long time. Is there any interesting story she couldn't share in the book? Are there more fairy shenanigans we don't know about?
M: I asked Memom to weigh in on this one, and here's what she told me: "There was a fella I went to high school with. Sweet kid. He was a freshman when I was a senior. Had a terrible stutter, couldn't hardly get a word out. Then he flashed me—you know, showed me his deepest wish. I saw him in our school's production of A Connecticut Yankee in King Arthur's Court. You wouldn't believe how hard it was to convince him to try out. But you know, once I got him on stage, he stopped stuttering. It was like a miracle. One of my favorite Cindies, that boy. He went on to star in all those Die Hard movies. And does he call? Does he write? But, you know, fairy godmothers never get much glory. That's just how it is."
L: I love the way you work with dialogue; it feels authentic and, honestly, had me chuckling and even laughing out loud more times than I could count. Any advice for aspiring authors on writing realistic, dynamic dialogue?
M: Dialogue is my favorite thing to write, but it can be tricky because people rarely make clear statements. In conversations, we communicate with a huge combination of prior knowledge, assumptions, body language, tone of voice…but on the page, we only have the words. So as a writer, the goal is to find that sweet spot where the dialogue is effectively communicating important plot and character details but is also messy enough to feel real. I write out loud a lot. I talk to myself and try out dialogue until it's exactly what I want. Then I give it to my critique group; they're great at catching things that aren't quite working.
L: Last but not least, what can we expect from you in the future? Are you writing something new you can share with us?
M: I can't share much because nothing is sold and it's very much a work in progress. But I am writing away in my little hidey hole—I promise! I realize that if someone loves Glimpsed, then they're going to pick up the next book trusting me to bring a similar experience. I don't take that trust lightly. So anyway, friends, just know that I'm working on something that is fun and funny and swoony and a little magical. And I can't wait to share it with you! You can subscribe to my occasional updates at gfmiller.com, follow me on Instagram @author.gfmiller, and/or follow me on Goodreads to get updates on book 2 as they become available.
About the Author
G.F. Miller can write 80,000-word novels, but ask her to sit down and write 250 true and meaningful words about herself and she is likely to have an existential crisis. Who am I, really? She ponders. What do I want to be known for? Does anyone even read the back flap or visit author websites?
But eventually she will pull herself together and tell you that…She married her college sweetheart and is mom to three littles who routinely make her heart burst and her head explode (it's a messy business, love). There are puppies big and small residing at her house (you'll be seeing a lot of them if you follow her on Instagram). She's been to a dozen countries, but not nearly as many as she would like. She loves learning all the things. She cries at all the wrong times. She makes faces at herself in the mirror. She believes in the Oxford comma. And she's always here for a dance party.
You can find more about the author on: Webside|Instagram|Goodreads|YouTube
Remember to add Glimpsed in Goodreads and grab a copy! It's an incredibly fun read that will leave you with a smile on your face. Take a look at the rest of the incredible creative content in the tour here!
That's it for today's post. Tell me about a 2021 anticipated release you're dying to get your hands on!
Take this as your daily reminder to drink some water, take a break and take care of yourself. THIS IS YOUR YEAR!
Besos,
Linda